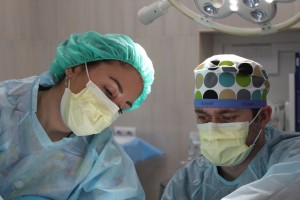 One summer morning last year Hadar Koplovich, an Israeli mother of five, finally checked into the hospital for abdominal surgery she had spent months waiting for. But she didn't need the surgery for her own health. She was there to have one of her kidneys removed so it could be given to save the life of someone she had never met. Then, she would spend a few weeks patiently recovering.
"Lots of people ask me how I could do this," Koplovich said. "But I don't feel like it's such a big deal. For me it was simple. We have two kidneys."
About a year before she donated a kidney, Koplovich watched her older brother go through the donation process, also giving to someone he had never met.
"This allowed me to think that I could do it, too," she said. "I also got to see how his donated kidney didn't just save the life of one sick person, but changed the lives of all of that person's family members and friends, who had been worried he would die and were also suffering."
Read the rest at Tablet Magazine.